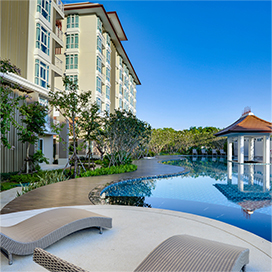 Chiang Mai is a vibrant city with a myriad of seductive attractions. You choose to stay at Harmony Resort Hotel, Chiang Mai, as it is conveniently located nearly airport and the old city. You have thoroughly enjoyed your Chiang Mai excursions and you return to your room to rest. We provided facilities there are microwave, refrigerator, air conditioner, television and other. Our bed room separate with the living room and balcony all of the guest room.
All service from our heart and all comfort around you.
Map and Direction
- Harmony Resort Hotel, Chiang Mai, is only a 5-minute drive from Chiang Mai International Airport.
- There are several options to reach Harmony Resort Hotel, Chiang Mai. Guests can choose from hotel transportation pick-up or taxi.
- For taxi to central Chiang Mai, proceed to the ground floor of the international or domestic arrival halls.
- Hotel Transportation You can book a transportation pick-up by providing your flight details and estimated time of arrival when booking online.